computer literacy
Discover the basic concepts of how Computer Literacy will help bridge gaps in technical understanding of computers, formatting and more.
ABOUT Computer Literacy
Computer Literacy focuses on the basic concepts of computers. This class will enhance learners knowledge of a variety of software and hardware components of a computer, as well as skills in typing, and formatting of papers. This course follows all standards as outlined by the Nevada Department of Education and credit satisfies the mandatory half credit in computer science for a high school diploma.
Class Expectations

As with many courses, students have a variety of skill sets to class. It is requested that no matter ones skill set we always remain respectful and create a culture of community in the course to help all learners while becoming proficient with the standards. Below are four pillars of a successful course:
​


Respect

Curiosity

Diligence
​
Self Awareness
Class Materials
Students in Computer Literacy will use the school laptops to complete their assignments. It is imperative that they save their work either in the cloud as an email (unless they have storage like gmail, or others), or on a thumb drive or other memory device. Students work that is saved on a laptop is at the discretion of the student and if lost or destroyed, students will not be given extra time or be excused from the work. Below is a list of items the student must bring to class daily:
​

Professional Email - students must create a professional email that has their real name

Thumb Drive (optional)- 4GB thumb drive is helpful though not required

Pen - Blue or Black ink

Lined Paper - College Rule



Powered by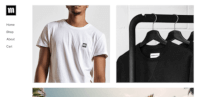 Create your own unique website with customizable templates.
Photos used under Creative Commons from Simon Waldherr, Pascal Volk, http://tvorbaweb-stranok.sk, Chendragon2 Skley